JD Bug Scooters are one of the most popular folding scooters in the UK.
JD Bug Scooters make many different models and specifications of scooters. J & R Sports distribute what we believe are the best quality and most reliable.
Since 1999, JD Bug Scooters have seen unprecedented success with their folding scooter range. Demand was high for their products, and they expanded their range to include different models and colour options in 2014.
Without a doubt the most popular scooter from JD Bug is the Original MS130. JD Bug introduced a smaller Junior scooter to the range to keep up with demand. It is perfectly proportioned for children aged 4+. All JD Bug Scooters feature a patented, single lever folding mechanism. This means the scooter can be folded quickly and easily with a single movement.
We have recently added new products to our JD Bug portfolio. The JD Bug Swayer is a fun to use ride on, suitable for use inside and out. There is also the new EZ folding classic scooter. This is based on the most popular JD Bug model.
JD Bug also have a stunt scooter range. This include the original Pro Street. We have added to the stunt scooter range with the Novato Pro and the Xtreme Stunt scooters.
There is also a fully stocked, comprehensive range of parts and accessories too. These will keep your scooter in perfect running order.
Check out the full JD Bug range below.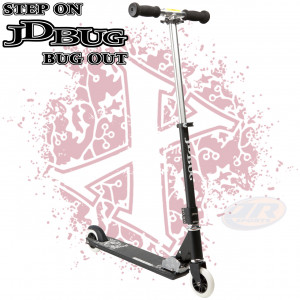 There are also a range of stunt scooters from JD Bug – the Pro Street Series, is based on the popular MS130.