Back in the late 1970's Randal Trucks were the strongest and most precise truck on the market.
Randal Fuller designed his first skateboard trucks in an era where there was no internet and no fancy design software. Using his engineering background, Randal hand drafted blueprints for his ideas. These blueprints were then given to a craftsman who created wooden models and match plates by hand. Due to the costs involved there was no room for error. Randal had to get it right first time. Fortunately, he did, and Randal Trucks were born.
In the present day Randal Trucks use 3D modelling software to design their trucks. Precise models can be made and then revised, meaning you get the best truck possible. The first of the original Randal Trucks to be redesigned for the 21st century is the Randal R-II Truck. This modern classic has been redone and now features a more precise hanger along with a new 'cast in' axle.
Other Randal Trucks will be getting the cyber-upgrades in coming months and J & R Sports will be happy to support the expansion of their range.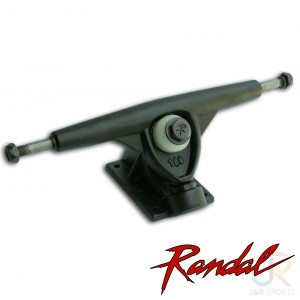 Randal R-II Trucks are designed for carving tight and making quick turns.